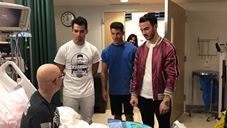 Jonas Brothers Surprise A Special Fan!
The Jonas Brothers gave one of their most dedicated fans a surprise of a life time when they showed up to her chemotherapy session.
16 year old Lily Jordan made an Instagram post to the brothers saying that she was suppose to be attending their concert in Pennsylvania, but her plans had to change when she needed to receive urgent chemotherapy for the cancer that she's currently battling.
All three brothers popped by Penn State Children's Hospital before their concert to spend some time with Lily, signing autographs and taking photos that will forever be an unbelievable and memorable experience!
Read more here!