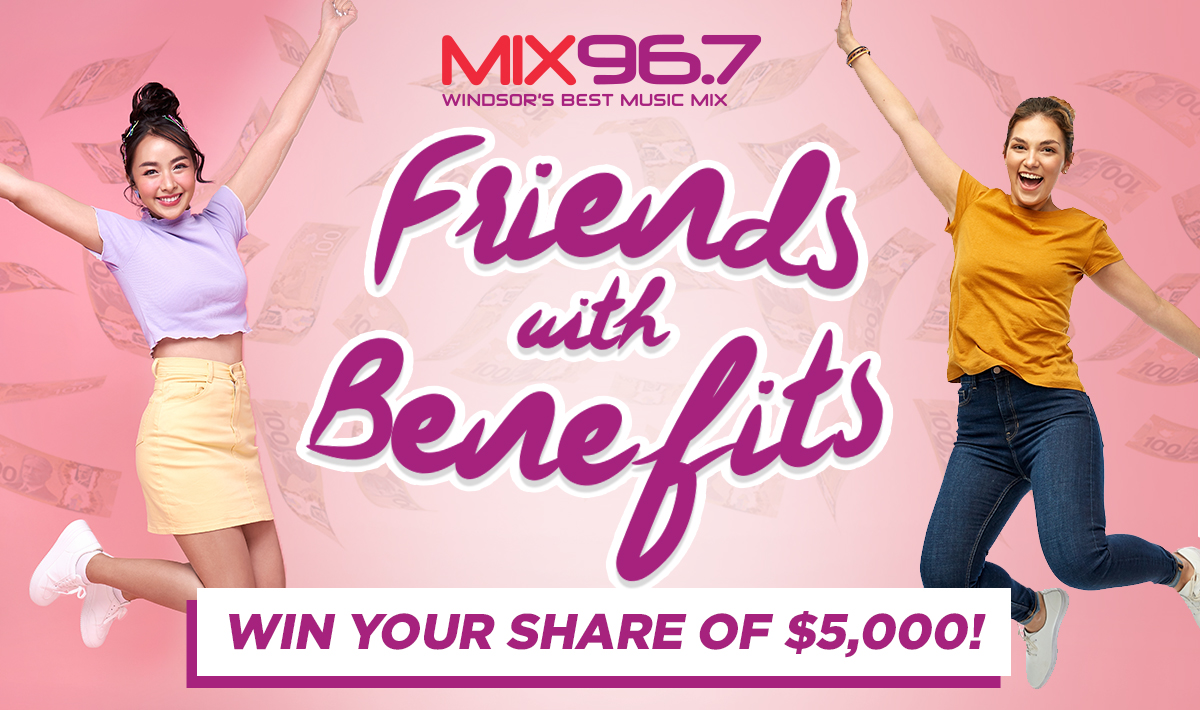 Friends With Benefits!
Win an easy $500 on-air! 
If your best friend is listening too, they can win another $500 with
MIX 96.7 FRIENDS WITH BENEFITS CONTEST!
---
Enter your information below and be listening for your name starting Tuesday, September 5!
Call us within 10 minutes to claim you $500 Cash Prize!
We'll then ask you to name a friend, giving them a chance to call in and win their own $500.
---
Names will be announced on the following dates on Mix Mornings at 7:50AM
Tuesday, September  5
Friday, September 8
Friday, September 15
Friday, September 22
Friday, September 29
If you hear your name, call the MNSI Mix Line: 519-944-2497
It pays to have Friends with Benefits especially if you're both listening to Mix 96.7!
One entry per person
Friend submitted must reside in separate household
Winners must individually pick up cash prize
Must have photo id
ID must match address provided
RULES AND REGULATIONS
FRIENDS WITH BENEFITS Contest Rules and Regulations:
Contest begins September 3 ("Contest Starting Date") and continues daily until Setpember 31 (the "Contest Ending Date"). Online entries will be taken online from August 28 at 12AM to September 28 at 12PM.
ELIGIBILITY:
To be eligible, you must be a legal Canadian citizen and currently reside in Windsor-Essex County, Canada. You are not eligible if, at any point during this time you are (or are an immediate family member with) an employee, representative or agent of Blackburn Radio Inc. or their respective parents, partners, affiliates or licensees. Immediate family shall include spouse, parents, children, siblings, grandparents, grandchildren and any other person residing within the same household. One qualification allowed per person, per household.
Release of Information: Participation constitutes permission for Mix 96.7 Blackburn Radio Inc. and other partners in this promotion without any further obligation to the contest winner and guest, to use your photo, name, likeness, voice, video and addresses for purposes of advertising or promotion.
ALL RULES SUBJECT TO CHANGE
REGULAR CONTEST RULES APPLY, TO SEE ALL CONTEST RULES, CLICK HERE