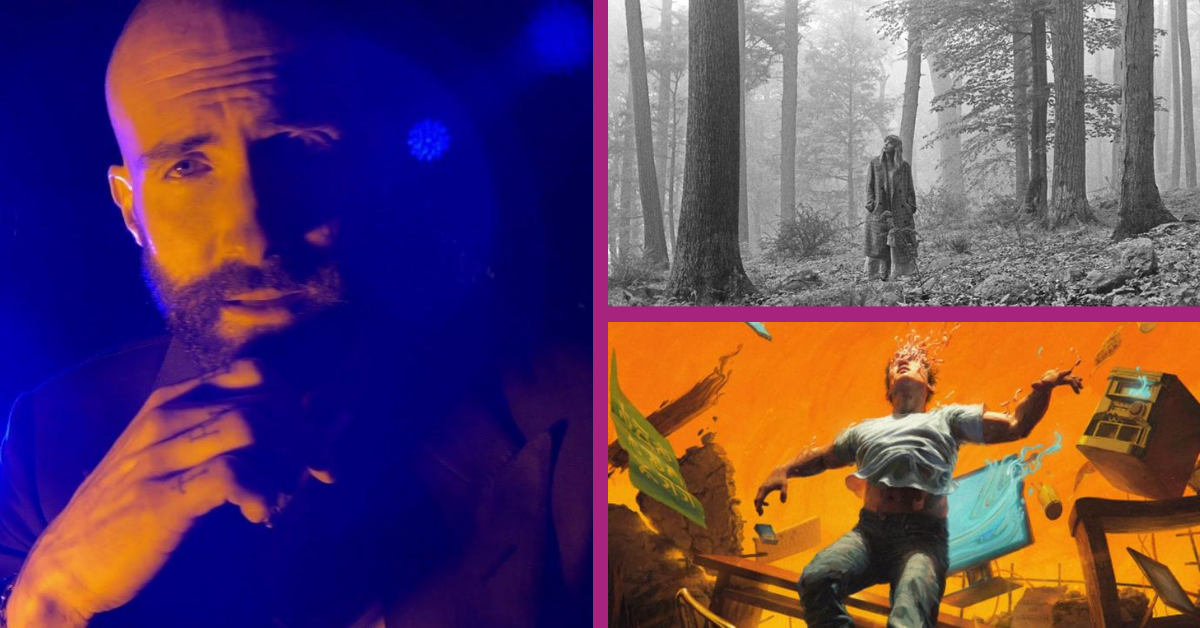 Fridays Are For Music Releases: New Taylor, Maroon 5, Logic + More!
Taylor Swift kicked off the excitement yesterday morning with the announcement that she would be giving us less than a day to prepare for her new album Folklore.
At midnight, we got the 16-track album she's been working on in quarantine. She says "In isolation my imagination has run wild and this album is the result. I've told these stories to the best of my ability with all the love, wonder, and whimsy they deserve."
Our take: not only are a lot of the lyrics fitting with how a lot of us are feeling in this time, it is also the soothing and moody album we didn't know we needed. The album is also wonderfully produced to make her vocal ability truly shine.
On top of this, we got a surprise release from Maroon 5! Their newest song Nobody's Love was accompanied by an intrically-shot (on an iPhone) video, directed by David Dobrick. Yes…David from YouTube.
They're definitely playing into the 80s synthesizer trend, but this takes it a step further by being the perfect summertime jam.
But how do we feel about bald Adam Levine?!
Last week we discussed the news that Login shared, being that his newest album No Pressure would be his last in order for him to focus on fatherhood (aw).
The album dropped last night as well. Hip hop fan or not, you can certainly appreciate the production value that has gone into this.
Here is a total list of new music releases for today (June 24), spanning all music genres:
Abracadabra, Abracadabra
Alex Aiono, The Gospel at 23
André Bratten, Silvester
Calboy, Long Live The Kings Deluxe
Cinder Well, No Summer
Courtney Marie Andrews, Old Flowers
Cub Sport, Like Nirvana
The Danberrys, Shine
DOV, It Feels Alright EP
Ellen Siberian Tiger, Cinderblock Cindy
Flo Milli, Ho, why is you here? EP
George Clanton & Nick Hexum, George Clanton & Nick Hexum
Glassio, For the Very Last Time
The Gooms, Laugh.
Gregory Uhlmann, Neighborhood Watch
Gunna, Wunna [Deluxe]
Howling, Colure
Immaterial Possession, Immaterial Possession
Jaguar Sun, This Empty Town
Jess Cornelius, Distance
Jesse Dayton, Gulf Coast Sessions EP
Jessy Lanza, All The Time
Jon Hassell, Seeing Through Sound (Pentimento Volume Two)
Kanye West, Donda
Katie Dey, mydata
The Kid Laroi, F–k Love
Lakes, This World of Ours, It Came Apart EP
Liza Anne, Bad Vacation
Logic, No Pressure
Lori McKenna, The Balladeer
Lupe Fiasco & Kaelin Ellis, House EP
Make Them Suffer, How To Survive A Funeral
Mannequin Online, Feel It EP
Maverick Sabre, You Know How It Feels EP
Misterwives, Superbloom
The Naked and Famous, Recover
Neck Deep, All Distortions Are Intentional
Nelson Kempf, Family Dollar
Neon Trees, I Can Feel You Forgetting Me
Patricia Lalor, Do It Again EP
Primal Fear, Metal Commando
Ronan Keating, Twenty Twenty
Safehold, Boyish
Samuel Proffitt, Shades EP
Skullcrusher, Skullcrusher EP
Snowgoose, The Making of You
Taylor Swift, Folklore
Wotjek, Atmosphere
Zoë Nutt, How Does It Feel