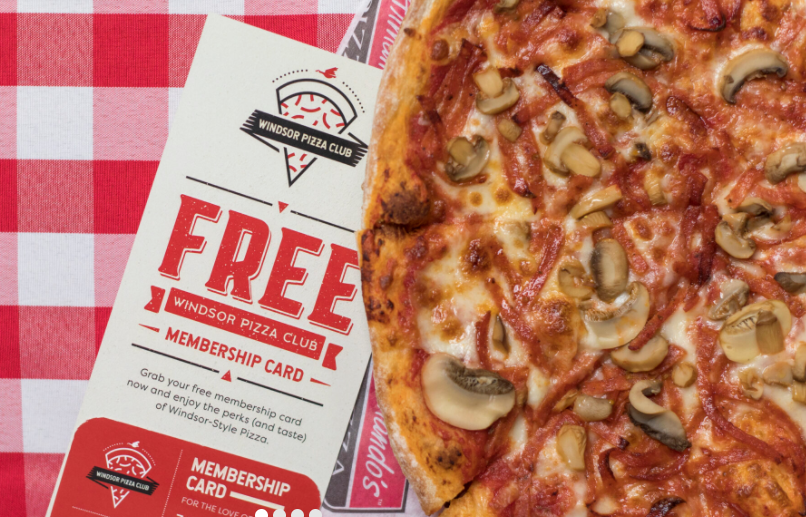 Windsor Has A New PIZZA CLUB!
And it's free to join!  The Windsor Pizza Club launched YESTERDAY by Tourism Windsor Essex Pelee Island !
Visit any of the participating locations to get your membership card stamped, then go to windsorpizzaclub.ca for some sweet prizes, like a super awesome limited edition Windsor Pizza Club T-SHIRT.  (I want that.)  You could also score FREE PIZZA FOR A YEAR!  (Forget the shirt, I want THAT!)
Last night I got my ANTONINO'S stamp as we made four personal pizzas right in our own kitchen.  It was crazy easy to do, you just open the box and everything is there.  Four perfect little balls of dough, four little containers of cheese, four little containers of (shredded!) pepperoni, and even a bag of of flour so you don't have to go digging in the cupboard.
It's really fun making pizza when you don't have to really do any work.  It's all done for you!  Just roll them out, dress them up, and pop'em in the oven for like 10 minutes.  My girls had a blast and we can't wait to get our next stamp.  The stickers and magnets are a nice touch to.  Join now Windsor, and enjoy!
Check out Arcata Pizzeria, Antonino's Original Pizza, Sam's Pizzeria, Armandos, Capri Pizzeria, The Caboto Club, Franco's Restaurant, and Oven 360.